Areas
Cedars of God (Arz Al Rab)
Cedars of God (Arz Al Rab)
How to get there?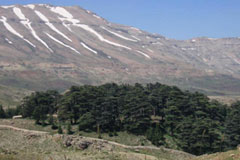 Cedars of The Lord in becharri, Northern Lebanon.

The more direct way to The Cedars is from Chekka (south of Tripoli) to Bsharre.

Two roads lead from Bsharre village to the cedars, about seven kilometers up the mountain.

About a kilometer further on is the famous Cedar grove where the road is lined with the inevitable souvenir stands and small restaurants. The same road continues to the ski area at 2,066 meters and goes over the mountain and down into the Beqaa valley.

The Cedars is a resort for all seasons. In summer the high elevation makes it a wonderful escape from the humid coast while in winter skiing is the favorite activity.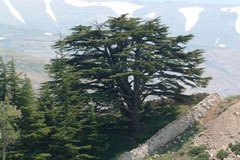 The cedars at Besharre are the true "Arzer-Rabb" or "Cedars of God" of the hardy mountain people of the Qadisha Gorge, beloved of the ancient Christians and blessed and protected -by the Patriarchs of Mount Lebanon, until their care was taken over by the young Lebanese Republic, whose emblem they form.

The 400-odd Cedars of Becharre are in a little protected pocket sheltered by Mt. Lebanon, extending down the slopes of a small, hill from the tiny Maronite chapel of 1843 amid the 12 most ancient trees. These cedars, growing at about 6,000 feet above sea level, have a height of some 80 feet and their trunks are up to 40 feet in circumference. They range between 1200 and 2,000 years in age and are greatly reverenced by the Maronite community who term them "the Cedars of God " and compare their stubborn survival to that of the ancient community itself down through the centuries of danger and insecurity.