Religion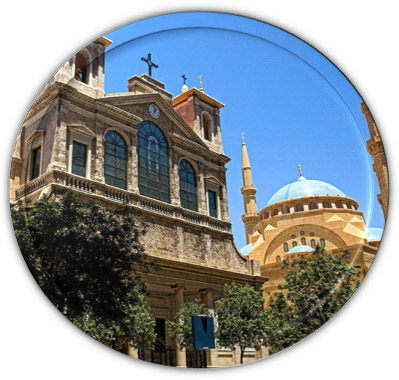 Lebanon has several different main religions. The country has the most religiously diverse society in the Middle East, comprising 17 recognized religious sects.
The most recent study conducted by Statistics Lebanon, a Beirut-based research firm, found that approximately Lebanon's population is estimated to be 54% Muslim (30% Shia; 24% Sunni), 5% Druze, 41% Christian (21% Maronite, 8% Greek Orthodox, 5% Melkite Catholic, 7% other Christian denominations like Armenian Orthodox, Syriac Catholic, Armenian Catholic, Syriac Orthodox, Roman Catholic, Chaldean, Assyrian, Copt, Protestant).
Christianity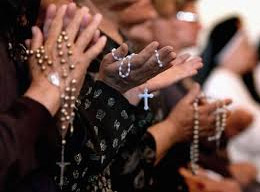 Christianity in Lebanon has a long and continuous history beginning with the visits of Jesus to the southern territories, where he is said to have performed many miraculous healings. Biblical Scriptures reveal that Peter and Paul evangelized the Phoenicians, whom they affiliated to the ancient patriarchate of Antioch. The spread of Christianity in Mount Lebanon was very slow where paganism persisted in mountaintop strongholds.
Before the Christian faith reached the territory of Lebanon, Jesus had traveled to its southern parts near Tyre where the scripture tells us that he cured a possessed Canaanite child.
Christianity in Lebanon is almost as old as gentile Christian faith itself, early reports relate the possibility that Saint Peter himself was the one who evangelized the Phoenicians whom he affiliated to the ancient patriarchate of Antioch. Paul also preached in Lebanon, he had lingered with the early Christians in Tyre and Sidon.
Saints of Lebanon

St Charbel (Charbel Makhlouf) 1828 - 1898
St Rafca (Rafka el-Rayès) 1832 - 1914
St Naamtellah (Nimatullah Kassab Hardini) 1808 - 1858
Christian communities
THE MARONITE CHURCH
THE ORTHODOX MELKITE CHURCH
THE ORTHODOX SYRIAC CHURCH
THE ORTHODOX ARMENIAN CHURCH
THE ARMENIAN CATHOLIC CHURCH
THE ORIENTAL ASSYRIAN CHURCH
THE CHALDEAN CHURCH
THE LATIN CHURCH
THE EVANGELICAL CHURCH
National holidays include most of Christians holydays.
ISLAM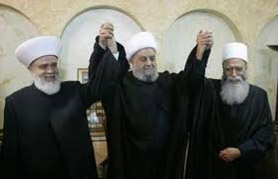 Islam, the third Monotheistic religion, was started by the Prophet Muhammad, a descendant of a long line of prophets, including Jesus, Moses, Abraham, and David (Peace be upon them).
Islam reveal in Lebanon with the Arabo-musulman conquest in the 7th century.
Islam sects in Lebanon:
Shi'a
Sunna
Druze
Alawit
JEWS
Lebanese Jews are traditionally a Sephardi (particularly Mizrahi) community living mostly in and around Beirut but also in Sidon and Baalbek. Almost all of the community has emigrated to Palestine occupied territories and to countries with already well established Lebanese Diaspora like France, Switzerland, USA, Canada, Argentina, ...
There are only between 50-100 Jews now living in the country.