About Lebanon
Governorates of Lebanon
Governorates of Lebanon
Governorates and districts of Lebanon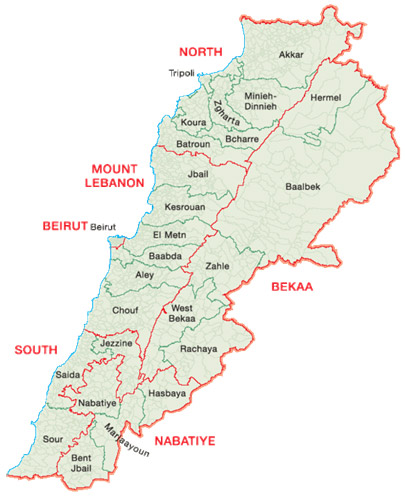 Lebanon is divided into six governorates (muhafazah), listed with their capitals in parentheses:
Beirut (Beirut)
Mount Lebanon (Baabda)
North (Tripoli)
Beqaa (Zahleh)
Nabatiye (Nabatiye)
South (Sidon)
The governorates are divided into 25 districts (Aqdya, singular - qadaa). The Beirut Governorate is not subdivided, and then subdivided into municipalities.
Two new governorates have been approved but not yet implemented: Akkar (from Akkar District) and Baalbek-Hermel (from Baalbek District and Hermel District).
Major cities:
Beirut, Tripoli, Jbeil, Jounieh, Batroun, Sayda, Tyre, Baalbek, Zahle, Jezzine, Baabda, Al Nabatiyeh, Aley...