Trip Planner
Transportations
Transportations
Lebanon Transport comprises of its buses, taxi and services, airlines, ports and harbors, which ensures communication and connectivity amongst the various parts of Lebanon as well as with different parts of the world.
Buses
1-Buses are the most popular transport mode and inexpensive and can be stopped anywhere along the way (on the international coastal road) simply by hailing.
There are several bus stations in Beirut. Buses to Sidon and Tyre are available from the "Cola Bus station" while buses for Beqaa valley leave from "Hazmieh bus station". Passengers on their way to Tripoli or to Syria can get the respective buses from "Charles Helou Bus Station".
When you take a bus:
-verifying the destination with the driver.
-The fair varies from 1500 to 5000 LBP.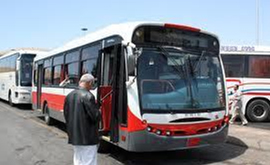 2- LCC (AKA the red buses)
Lebanese Commuting Company engages in the public transport services in Greater Beirut and its suburbs
It covers 10 routes that extend to the north, south and east, reaching Jbeil (Byblos), Broumana, and Aley.
Its current address is Choueifat, Main Road, LCC Building, Facing Sultan Steel. Its phone / fax numbers are 05-810510 / 05-810610
SEE MAP BELLOW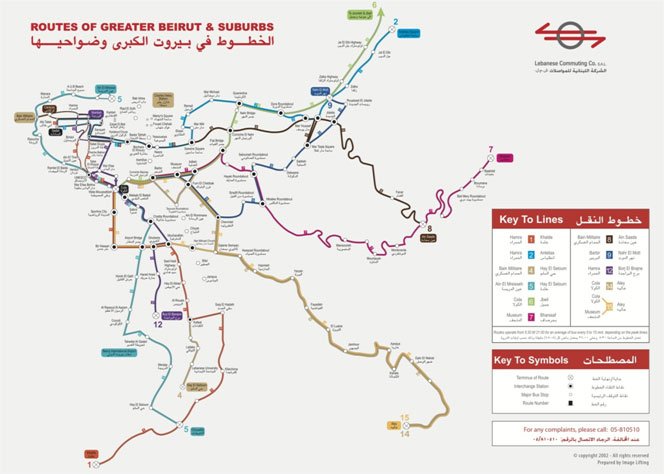 Taxi and Services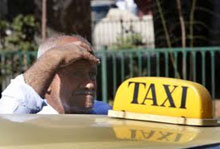 -Service-Taxi or shared taxi
With this type of taxi the driver stops to pick up additional passengers anywhere on the streets and drop them off generally in main squares and main streets. It remains advantageous with very low fares.
Price varies from 2000 to 5000 LBP per person depending on how close or far the destination is.
-Traditional taxi
The driver must not pick up additional passengers.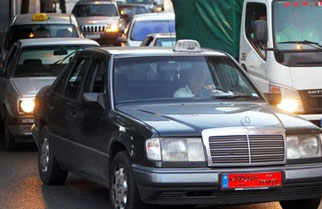 Most of these taxis are not equipped with meters, so negotiate the fare before embarking.
Prices varies from 5000 LBP to 50 000 LBP
-On-call taxi
This kind of taxi picks up people who have pre-booked by phone. They don't have a meter so passengers should ask the operator the price when they are booking the taxi.
Ask your hotel or your trip advisor for your on-call taxi.
Airport
Beirut International Airport or the Rafic Hariri International Airport has been enlarged and completely remodeled, is the home base for the national carrier, Middle East Airlines.
Beirut airport also receives flights from more than 31 international European and Asian airlines, and have an annual capacity of six million passengers by the start of the 21st century.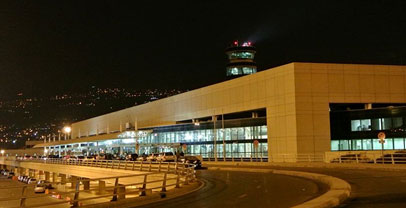 The airport has all of the typical airport passenger facilities including duty free shops, cafes, restaurants, banks, a post office, prayer rooms and a tourist information centre (managed by the Ministry of Tourism).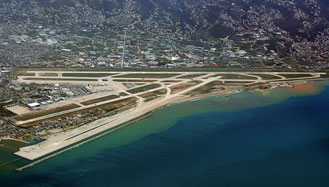 The airport has three lounges for premium passengers located on the mezzanine level above the Duty Free area in the departure area. They are: MEA's Cedar Lounge, LAT Lounge, Saudia's Golden Lounge.
Middle east Airlines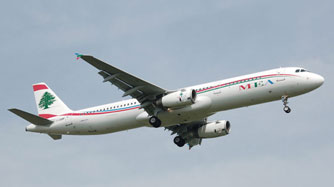 The MEA is the national flag-carrier airline of Lebanon, with its head office in Beirut; it operates scheduled international flights to Asia, Europe, and Africa from its base at Rafic Hariri International Airport.
(Abidjan, Abu Dhabi, Accra, Amman-Queen Alia, Athens, Baghdad, Brussels, Cairo, Dammam, Doha, Dubai,Erbil, Frankfurt, Geneva, Istanbul-Atatürk, Jeddah, Kano, Kuwait, Lagos, Larnaca, London-Heathrow, Milan-Malpensa, Najaf, Paris-Charles de Gaulle, Riyadh, Rome-Fiumicino, Yerevan).
Seasonal: (Copenhagen, Düsseldorf, Madinah, Nice, Sarajevo, Sharm el-Sheikh).
Contacts: local agent in regions

Rafic Hariri International Airport
Telephone: +9611623929 / +9611623911
Fax: +9611923404
Email: airport-sol@mea.aero
A. Abdel Razak Building, Abdel Hamid Karami Street, Bab Idriss, Beirut
Telephone: +9611976976/+9611976800/+9611622888
Fax: +9611976900
Email: babidriss@mea.aero
Gefinor Center, Clemenceau Street, Hamra, Beirut
Telephone: +9611628888/+9611622845/+9611623058
Email: gefinor@mea.aero / salesleb@mea.aero
Al Shouf Touristic Complex, Baakline
Telephone: +9615303150
Fax: +9615303150
Four Points Sheraton Hotel, Bhamdoun
Telephone: +9615262600
Fax: +9615262600
Email: bhamdoun@mea.aero
Lebanese Canadian Bank Center, Hermel, Bekaa
Telephone: +9618201717
Fax: +9618201313
Email: hermel@mea.aero
Unidem Building, Jal el Dib
Telephone: +9614721700 /+9614721900
Fax: +9614722570
Email: jaleldib@mea.aero
Mansour Building, Jbeil Main Road, Jbeil
Telephone: +9619949467
Fax: +9619949472
Email: spv-jbeso@mea.aero
Faddoul Building, Ghadir, Kesserwan
Telephone: +9619900031/+9619932120/+9611622226
Fax: +9619934639
Email: jounieh@mea.aero
Badr Building, Eastern Boulevard, Dakerman Area, Saida
Telephone: +9617721460/+9617724909/+9617733732
Fax: +9617733738
Email: saida@mea.aero
M. Karameh Building, R. Karameh Street, Al Basateen Area, Tripoli
Telephone: +9616203333/+9616204444/+9611623222
Fax: +9616211720
Email: tripoli@mea.aero
Georges Chedid Building, Zahle Boulevard, Zahle, Bekaa
Telephone: +9618806484 / +9618803484 /+9611622282
Fax: +9618807451
Email: zahle@mea.aero
Airlines in Lebanon
Aeroflot
Selim Saab Building, 2nd Floor, Verdun, Beirut
Telephone +9611739596
Fax +9611739597
Email: beytosu@aeroflot.ru /mrba@dm.net.lb
Destinations: Moscow-Sheremetyevo
Air Algérie
Gefinor Center, Clemenceau Street, Hamra, Beirut
Telephone: +9611343440 / +9611343441
Web: www.airalgerie.dz
Destinations: Algiers
Air Arabia
Global Holidays
Aresco Center, Ground Floor, Hamra, Beirut
Telephone:+9611756666
Email:airarabia@globalholidayslb.com
Web: www.airarabia.com
Destinations: Sharjah
Air Canada
Lebanese & Overseas Services
Verdun 2000 Centre, 6F, Verdun Street, Beirut
Telephone: +9611811690 / +9611811691
Fax: +9611860004
Web: www.aircanada.com
Air France
170 Saad Zaghloul Street, Foch, Beirut Central District
Telephone: +9611977977
Fax: +9611977970
Web: www.airfrance.com.lb
Destinations: Paris-Charles de Gaulle
Seasonal: Marseille
American Airline
Pan Asiatic Travel
Gefinor Center, Block A, Clemenceau Street, Hamra, Beirut
Telephone:+9611353637 / +9611747750
Web: www.aa.com
Destinations: USA
Alitalia
Liberty Tower, Rome Street, Hamra, Beirut (Reservations)
Telephone: +9611340280 / +9611343010
Fax: +9611343011
Web: www.alitalia.com
Destinations: Rome-Fiumicino
bahrein Air
Tabet Building, Ground Floor, Damascus Road, Badaro, Beirut
Telephone: +9611395604 / +9611395605
Fax: +9611384561
Email: shassan@bahrainair.net
Web: www.bahrainair.net
Destinations: Minsk-National
British Airways
Gefinor Center, Block B, 4th Floor, Clemenceau Street, Hamra, Beirut
Telephone: +9614474777
Web: www.britishairways.com
Destinations: London-Heathrow
Bulgaria Air
Blue Building, 6th Floor, 604 R, Abdel Aziz Street, Hamra, Beirut
Telephone: +9611361707
Fax: +9611361056
Email: beirut@hemusair.bg
Web: www.air.bg
Seasonal: Sofia
Cyprus Airways
Starco Center, Block B, Ground Floor, Beirut Central District
Telephone: +9611371136 / +9611629172
Destinations: Larnaca
EgyptAir
Bank Misr Building, Banks Street, Beirut Central District
Telephone: +9611981809 / +9611980166 / +9611980165 Fax: +9611989679
Web: www.egyptair.com
Destinations: Cairo
Emirates
Gefinor Center, Clemenceau Street, Hamra, Beirut
Telephone: +9611734500 / +9611629157
Fax: +9611744493
Web: www.emirates.com/lb/English
Destinations: Dubai
Etihad Airways
Zein Building, Ground Floor, Omar Daouk Street, Bab Idriss, Beirut
Telephone: +9611975000
Fax: +9611974528
Web: www.etihadairways.com
Destinations: Abu Dhabi
Ethiopian Airlines
Gefinor Center, Block B, Clemenceau Street, Hamra, Beirut
Telephone: +9611752846 / +9611752847 / +9611629814
Fax: +9611752846 Destinations: Addis Ababa
FlyDubai
Destinations: Dubai
Germanwings
Destinations: Berlin-Tegel (begins 30 November 2013)
Gulf Air
Borj Al Ghazal, Fouad Chehab Ave, Achrafieh, Beirut
Reservations Office: +9611323332
Sales Office: +9611323307/+9611323308/+9611324676
Fax: +9611323364
Web: www.gulfair.com
Destinations: Bahrain
Iran Air
East Star, Aresco Center, Hamra, Beirut
Telephone: +9611753064/+9611753066
Fax: +9611753066
Web: www.iranair.com
Destinations: Tehran-Imam Khomeini
Iraqi Airways
Hamra Street, Near Bank of Lebanon, Hamra, Beirut
Telephone: +9611744334/+9611744335
Fax: +9611744334
Email: iac.lb@hotmail.com
Web: www.iq-airways.com
Destinations: Baghdad, Basra, Erbil
Kuwait Airways
Arab Baank Bldg., Ground Floor, Riad el Solh Square, Beirut
Telephone: +9611985180 / +9611985179/+9611629002
Email: bey@kuwaitairways.com
Web: www.kuwaitairways.com
Destinations: Kuwait
Lufthansa
Gefinor Center, Block B, 10th Floor, Clemenceau Street, Hamra, Beirut
Telephone: +9611347007
Fax: +9611349001
Email: BEYteam@dlh.de
Web: www.lufthansa.com
Destinations: Berlin-Tegel (ends 29 November 2013), Frankfurt
Oman Air
Gefinor Center, Block D, Ground Floor, Clemenceau Street, Hamra, Beirut
Telephone: +9611753581 / +9611753582/+9611753583
Fax: +9611753580
Web: www.omanair.com/wy/index.htm
Destinations: Muscat
Qatar Airways
Al Waha Building, Street No.62, Ein El Tineh, Beirut
Telephone: +9611810412/+9611629524
Fax: +9611803061
Web: www.qatarairways.com
Destinations: Doha
Royal Air Maroc
Gefinor Center, Clemenceau Street, Hamra, Beirut
Telephone: +9611755006
Fax: +9611755933
Web: www.royalairmaroc.com
Destinations: Casablanca
Royal Jordanian
BLF Building, 2nd Floor, Metropolitan Hotel Roundabout, Sin El Fil, Metn
Main Office: +9611493480 / +9611490275
Fax: +9611491091
Email: beytbrj@rj.com
Reservations Office: +9611493320 /+9611493321/+9611493480/+9611493481
Destinations: Amman-Queen Alia
Saudia
Sahnaoui Building, Bank of Lebanon Street, Hamra, Beirut
Reservations Office: +9611349100/+9611349101/+9611349102
Airport: +9611629366
Web: www.saudiairlines.com
Destinations: Dammam, Jeddah, Riyadh
Syrian Air
Mar Elias, Facing Wazzan Center, Beirut
Telephone: +9611375632/+9611375633/+9611375634
Fax: +9611375636
Email: rb.beirut@syriaair.com
Destinations: Damascus
Tunisair
Chaker El Oueini Building, Riad El Solh Square, Beirut Central District
Telephone :+9611980370/+9611980371/+9611980372/+9611980373
Fax: +9611980374
Email: tunisair.beyrouth@dm.net.lb
Web: www.tunisair.com.tn
Destinations: Tunis
Turkish Airlines
Al Azarieh Building, Block A2-2, Beirut Central District
Telephone: +9611999849
Fax: +9611999850
Email: marketingbey@thy.com
Web: www.turkishairlines.com
Destinations: Istanbul-Atatürk
United Airlines
Makdessi Street, Hamra, Beirut
Telephone: +9611745429
Fax: +9611740043
Web: www.united.com
Yemenia
Clemenceau Street, Minet el Hosn, Beirut.
Telephone: +9611737736
Fax: +9611747704
Web www.yemenia.com
Destinations: Sana'a